Save money
get discounts of up to 50%*
*
For any booking 48 hours in advance
94,6%
of satisfied clients !
Intersport
No. 1 for on-line ski rentals
Welcome in INTERSPORT ARECHES BEAUFORT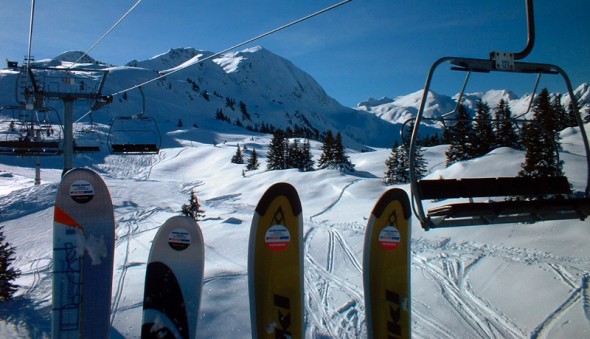 Three shops available to you since 1969.
In 1969, Lucien BLANC, ESF (French ski school) qualified instructor opened his first small shop called LUCIEN SPORTS for selling and renting sport equipment on chemin des Ecolières in Arêches.

In 1971, he built the Planay shop at the foot of the slopes.

Today, three shops are available to you in the resort...
---
Les Clarines
Open 7 days a week non-stop from 8.30am to 7.00pm
Intersport Les Clarines
Phone : +33 (0)4 79 38 10 89
Place du Capitaine Bulle
73270 ARECHES

Book right now in this shop

This shop at the heart of the village invites you in.
You'll find a wide variety of clothes and equipment brands on sale. We also have a rental area with a special 'large family' corner. Car park nearby.
---
INTERSPORT Le val blanc
Intersport Le Val Blanc
Phone : +33 (0)4 79 38 16 12
Immeuble Val Blanc 1
73270 ARECHES
100 m from the Grand Mont chairlift

Book right now in this shop

Our shop at the foot of the Grand Mont slopes offers you a 'quick' rental service. You'll also find ski and snowboard accessories on sale. Car park nearby.
---
INTERSPORT Le Planay
Intersport Le Planay
Phone : +33 (0)4 79 38 14 49
At the foot of the slopes (near the ski lift access gates and where ESF ski lessons start off)

Book right now in this shop

Built in 1971, on the first floor our shop now has a wide range of equipment and clothing on sale with a 'special offers' corner.
The bottom floor is reserved for equipment rental.

This shop also offers a locker service and an area reserved exclusively for groups.

In the Planay shop, experts adjust your ski bindings for free!

Our individual and lockable lockers are also free for all the family at the bottom of the slopes. No more stressing about where to store your skis, snowboards, boots, etc.

You can drop your gear there at any time of the day that suits you. Furthermore, if you're skiing separately, we can give you a second key to make things easier.

Car park nearby.
INTERSPORT ARECHES-BEAUFORT - Le Planay
Arêches Beaufort - le Planay
Phone : +334 79 38 14 49
Au pied des pistes (à proximité des guichets des remontées mécaniques et du départ des cours de ski ESF)
Email : info@intersport-areches.com
INTERSPORT ARECHES-BEAUFORT - Imm. Val Blanc
Immeuble Val Blanc 1
73270 ARECHES
Phone : +334 79 38 16 12
à 100 m du télésiège du Grand Mont
Email : info@intersport-areches.com
INTERSPORT ARECHES-BEAUFORT - Les Clarines, place d'Arêches
Les Clarines
Place du Capitaine Bulle
73270 ARECHES
Phone : +334 79 38 10 89
Email : info@intersport-areches.com